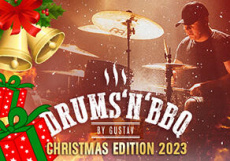 GUSTAV SCHÄFER tickets
•
DRUMS´N´BBQ Workshop
3 Events: 15.12.2023 - 17.12.2023, from 399,00 €
DRUMS´N´BBQ X-MAS - by Gustav
Loitsche

•

Werk-und Kulturscheune in Loitsche
• 11:00 AM
DRUMS´N´BBQ X-MAS - by Gustav
Loitsche

•

Werk-und Kulturscheune in Loitsche
• 11:00 AM
DRUMS´N´BBQ X-MAS - by Gustav
Loitsche

•

Werk-und Kulturscheune in Loitsche
• 11:00 AM
GUSTAV SCHÄFER
Enjoy a full workshop day "Christmas Edition" with Tokio Hotel drummer Gustav!
Let him teach you some drumtricks, rehearse a song together with him and enjoy a delicious BBQ.

- Drum-workshop "X-Mas Edition" with Gustav
- Be part of the private Drums&BBQ X-Mas Instagram group to get exclusive pre-content
- Rehearse a song with Gustav
- Q&A: there is plenty of time for many questions
- Take fotos as much as you like (with selfies of course)
- BBQ: Gustav will barbeque his special Christmas dishes for you
- Mulled wine and cookies should not be missing from the Christmas Edition
- Chill & grill with christmassy BBQ, fire bowl, stick bread, mulled wine and much much more
- special options for vegetarians and vegans are possible
- Exclusive workshop certificate
- Everything is in an intimate atmosphere. Just 25 attendees per workshop!