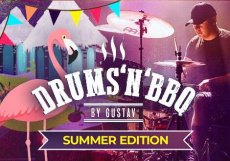 GUSTAV SCHÄFER tickets
•
DRUMS´N´BBQ Workshop
2 Events: 05.08.2023 - 06.08.2023, from 399,00 €
DRUMS´N´BBQ Workshop - by Gustav
Loitsche

•

Werk-und Kulturscheune in Loitsche
• 11:00 AM
DRUMS´N´BBQ Workshop - by Gustav
Loitsche

•

Werk-und Kulturscheune in Loitsche
• 11:00 AM
GUSTAV SCHÄFER
Enjoy a full workshop day "SUMMER Edition" with Tokio Hotel drummer Gustav!*
Let him teach you some drumtricks, rehearse a song together with him and enjoy a delicious BBQ

-Drum-workshop "SUMMER Edition" with Gustav
-Be part of the private Drums&BBQ SUMMER Instagram group to get exclusive pre-content
-Rehearse a song with Gustav
-Q&A: there is plenty of time for many questions
-Take fotos as much as you like (with selfies of course)
-BBQ: Gustav will barbeque for you
-Chill & grill with BBQ, fire bowl, drinks and much much more
-special options for vegetarians and vegans are possible
-Exclusive workshop certificate
-Everything is in an intimate atmosphere. Just 25 attendees per workshop!

* If it is not allowed to organize the event due to official regulations, it will be postponed to the next possible time. The tickets remain valid. At the event itself, all official hygiene requirements are taken into account.