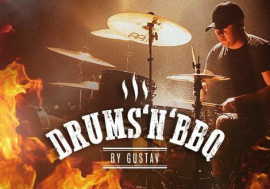 GUSTAV SCHÄFER tickets
Enjoy a full day with Tokio Hotel drummer Gustav!
Let him teach you some drumtricks, rehearse a song together with him and enjoy a delicious BBQ - by the way: everything happens at a place where he often rehearses with Bill, Tom and Georg.

- Drum-Workshop with Gustav
- Rehearsal a song with Gustav
- Drum-Quiz: guess Gustavs favorite songs
- Q&A: there is plenty of time for many questions
- selfie with Gustav
- BBQ: Gustav will barbeque for you
- chill & grill with BBQ, beer and Jack
- exclusive certificate
- everything is in an intimate atmosphere. Just 15 attendees only per workshop!

Eventalarm For GUSTAV SCHÄFER